Details

- FIGC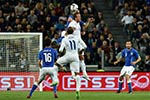 Fassi Gru partner of the Italian Football Federation as official sponsor
This agreement lasts for four years and will therefore see Fassi Gru alongside Buffon and companions cheer on, like millions of Italians, the performance of the manager Conte's boys and, with the same enthusiasm, also the manager Di Biagio's "Under 21s", in the long competitive journey that will bring the Italian national athletes through the European Championship in France in 2016 and to the fundamental goal of the World Championship in Russia in 2018.
Details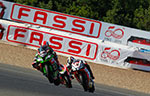 Fassi Gru the Event Main Sponsor of the French Round
Albino (Italy) - September 29th
. The Italian company to star the penultimate event of the season. Fassi Gru will be the Event Main Sponsor for the French Round of the 2015 eni FIM Superbike World Championship, taking place this weekend at Circuit de Nevers Magny-Cours in France. The company, which has a high profile worldwide in the crane and industrial-lifting sector, has been part of the series for three consecutive years as Official Sponsor. Founded in Albino, a small town in Northern Italy, this year Fassi Gru celebrates its 50th anniversary as a manufacturer of hydraulic cranes for trucks.
Details
FASSI IS A LEADER AT THE EUROPEAN TRUCK RACING CHAMPIONSHIP 2011
The Fassi Group took part in the Misano and Nürburgring legs of the European Truck Racing Championship 2011.
This year, in addition to the 1,000 m2 testing field and the stand in the paddock conference room, Fassi Gru S.P.A.'s participation in Misano included an important meeting with the entire Italian business network. In other words, it was a meeting with the very best representatives of sales and customer service who promote Fassi products and represent the vital connection between the market and the solutions offered by Fassi. Public turnout during the Italian event exceeded that of 2010 by 15%.