Details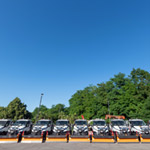 Fassi Gru has equipped 14 Daily 4x4s with F32A.0.23 cranes for the client Terna on behalf of IVECO.The first 14 IVECO Daily 55S8H 4x4s manufactured in the Bolzano plant have been equipped with Fassi F32A cranes and snowploughs by the Briccolani company.
As soon as they were registered, they were delivered to Terna's various AOT (Operational Transmission Area) centres spread throughout Italy and then immediately put into service. The 14 IVECO Daily 55S8H 4x4s, the first from the new range manufactured in the Bolzano plant, will be joining another six similar vehicles already in operation since January 2018. This is a significant delivery from Iveco CNH, which has chosen to equip their vehicles with Fassi F32A.0.23 cranes. It is a complex fitting that best responds to the requirements of Terna, one of the most important grid operators for the transmission of energy throughout Europe and the manager of the Italian high-voltage network, one of the most modern and technologically advanced in Europe.
Details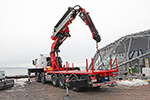 A historic collaboration dating back almost thirty years, which has strengthened over time and is now pushing the Italian industrial group towards increasingly innovative horizons
For Fassi quality has always been a "must", from the time its first cranes were created more than fifty years ago. Fassi cranes originated from design choices focused on excellence. Each prototype must pass strict tests before they are moved on to production. Finally, the automation of the production processes ensures compliance with the most stringent quality standards, guaranteeing the excellence of the finished product: Fassi's "crane without compromise".