When you choose a Fassi crane you are making a true investment destined to show its full value in time: product value, market value, service value.
When a Fassi crane, after completing its manufacturing cycle and testing, is sent out to the dealers and then to the end user, it starts a working life destined to last for a long time.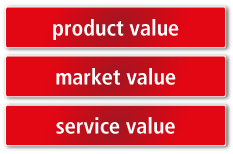 That is not just a promise: it is a certainty, witnessed by the fact that
over 70% of the cranes produced by Fassi are still in full-time operation
. A further confirmation of quality comes from the fact that used Fassi cranes continue to retain a high value on the market, and do not depreciate.
This means that choosing Fassi is a real economic and business investment, but there's even more the capacity and superior performance of every Fassi crane, based on
technological solutions
that highlight innovation as a feature and competitive factor, mean that the user can verify how the value of this investment translates in terms of day-to-day productivity. Working better and faster, in
complete safety
whatever the lifting conditions are, even the most complex and severe, means also getting some concrete advantages in terms of performance per working hour and allows problems to be avoided or solved quickly. Finally, there is the value of service, meaning that it is possible to rely on a widespread, professionally trained service network that is willing to be in accordance with the requirements and needs of those who consider the crane an essential ally and assistant, day after day. A "machine" that must be in full working order at all times.
This is why choosing a Fassi crane means making a quality investment with high added value, destined to create both short and long-term "returns": it is also easier to amortise and has a guaranteed yield.
DESIGNED TO PERFORM
INNOVATIVE DESIGN OPERATIONS MEAN SAFE, HIGH-PERFORMANCE CRANES

Design is a crucial factor in a company's ability to offer products at the top market levels, from performance through to safety. In fact, all those solutions that increase performance and reduce risk margins come from the design. Design is not just an abstract theoretical concept, but an essential phase in really producing machines that do not have to compromise.

This is the reason why "DESIGNED TO PERFORM" is the watchword that features in Fassi's work. Each of the solutions used in Fassi cranes is part of an engineering technology focused on the synergy between potential and reliability. Design as the beating heart of innovation. It is no coincidence that Fassi is constantly in the vanguard in terms of the technology used on its cranes. This continually being "ahead" of the competition is the logical consequence of the considerable investments incessantly made by Fassi to design research, which is seen and interpreted as a guiding factor for its market position. However, Fassi's main feature is its ability to apply the results of technological evolution to its entire range of cranes, rather than just to a single top-of-the-range model.



Those who choose Fassi are certain they will be getting all the innovations that make Fassi cranes unique and inimitable, regardless of crane type and version.