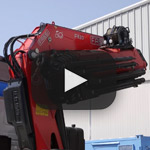 Albino (Italia) - 28th October.
A video dedicated to the English company Advanté and lasting 2'26" was uploaded on the Fassi YouTube channel on Wednesday, 26th October. It was created thanks to the collaboration of Fassi UK Ltd. The video briefly presents the activities of this Fassi client. Thanks to their fleet of special trucks fitted with Fassi cranes, they are able to diversify their activities, offering a range of ancillary services for the handling of the containers. Advanté, Walker Crane, Fassi and Scania pioneer 360-degree lifting in the UK.
More details: here


Subscribe to the YouTube channel to be updated.