Details
FASSI IS A LEADER AT THE EUROPEAN TRUCK RACING CHAMPIONSHIP 2011
The Fassi Group took part in the Misano and Nürburgring legs of the European Truck Racing Championship 2011.
This year, in addition to the 1,000 m2 testing field and the stand in the paddock conference room, Fassi Gru S.P.A.'s participation in Misano included an important meeting with the entire Italian business network. In other words, it was a meeting with the very best representatives of sales and customer service who promote Fassi products and represent the vital connection between the market and the solutions offered by Fassi. Public turnout during the Italian event exceeded that of 2010 by 15%.
Details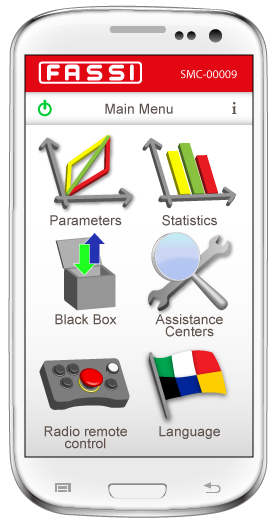 Fassi smartapp system. The first to reach this new technological milestone to support our customers

Fassi Group announces it has reached a new frontier in processing data from on-board devices of loader cranes; the new technology helps operators carry out their work with greater speed, precision, and safety.

From among the most important innovation guidelines followed by the Italian company in Albino, the one which stands out the most has to do with the Human-Machine Interface (HMI).

Its relevance has to do with the fact that today's on-board systems for cranes - often remote controlled - are so chock-full of information that they require high levels of concentration from the operators during the quick and accurate movement of the machines.