O'Brien Contractors says Andover plant body is 'the reliable choice'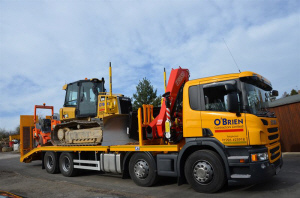 Civil engineering firm O'Brien Contractors has taken delivery of a 32-tonne Scania 8x4 rigid, fitted with an Andover Trailers plant body. A Fassi crane is also fitted to the plant body, enabling loading and unloading of heavy equipment at delivery sites, but also providing flexibility for the vehicle to be used as a mobile crane.
The bespoke LPPB32 body is fitted with 2.5m long x 1m wide hydraulic fold flat ramps, together with hydraulic steady legs. Seven pairs of lashing points in the floor ensure loads of all sizes can be strapped down securely.
More details:
www.transportengineer.org.uk