Two Fassi cranes work for Cunzolo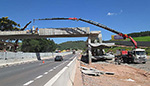 Cranes of the Cunzolo company raised precast concrete components, with a weight of 300 kg each. The operation performed on the Tamoios Highway close to Jambeiro ( 130 km east of San Paulo) has required cranes with horizontal reach up to 25 meters and vertical of approximately 6.50 meters.
This operation was performed to close the sides of walkways over the highway. The Cunzolo company has used two articulated Fassi cranes: a F660RA.2.25 model and a F1150AXP.28 model. Thanks to the flexibility of such equipments and the two crane ability to work simultaneously, the operation was carried out very quickly.
Congratulations to the team who worked: Flávio Padilla, Alex Souza and Adriano.
More details:
www.cunzolo.com.br