Charlton and Translease build Euro 6 lightweight DAF with a Fassi F80A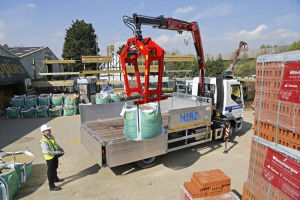 Charlton Bodies and Translease Services are showcasing a Euro 6 demonstrator truck at this week's National Merchant Buying Society (NMBS) exhibition in Coventry.
The 16-tonne gvw, Euro 6 DAF LF 55 chassis has been fitted with the latest version of Charlton's BuildLite bodywork. The body used on the demonstrator is 4,350mm long, with a hardwood floor secured to the chassis by galvanised cross-members. Each bodywork side has double aluminium-planked dropsides, 700mm in height, for maximum load security. With its tailgate lowered and vertical security pillars removed, the body offers a flat and open deck for easier loading/unloading by the front-mounted, wirelessly-operated
Fassi truck crane F80A
.
More details:
www.transportengineer.org.uk