2200 cubic meters of concrete for added security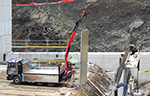 One of the largest bodies of water retention is currently under construction in Maria Lankowitz in Styria (Austria). In the fall, should be the delivery of the first batch. The Kleine Zeitung has made a site visit.
Using a Fassi crane the driver of the truck lifts a huge a form of concrete in the loading area of the construction site. Two workers are waiting safely to more than five meters in height above ground to connect the form to the central 40-inch thick reinforced body. It will be the centerpiece of the dam 25 meters high and 168 meters long in the retention basin to Lankowitzbach in Maria Lankowitz region. About 2,200 cubic yards of cement will be placed by Teerag -Asdag company. Up to 191 thousand cubic meters of water will be stowed in this basin built to prevent flooding in the area.
More details (only in German):
www.kleinezeitung.at