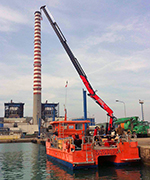 This is the model F155AFM.2.24 belonging to the medium duty range of Fassi cranes, installed with specially designed base for a ship of the company "Gulf of Follonica Agricultural Society Ltd" based near Follonica in the province of Grosseto (Italy).
The company operates in the field of sea breeding, with facilities located in the Gulf of Follonica in Maremma Tuscany. The production line has been designed to reach an eco-sustainability for the consumers protection, and to achieve natural quality of the product with the utmost respect for the ecosystem.
Breams (Sparus aurata) and sea basses (Dicentrarchus labrax) are raised in breeding plants offshore in floating cages realized in the network. The use of floating cages allows you to take advantage of the natural flow of the waters of the sea, avoiding the permanence of fish in stagnant water or artificially oxygenated.
The Fassi crane works every day, as well as to bring the feed (in large bags of Kg 600/700) to fish and to do maintenance to the networks, raising cages that weigh about 3000/4000 Kg.
More details:
www.itticagolfodifollonica.it