The Russian bodybuilder "NizhSpetsAvto" presents a KAMAZ vehicle model 44108 with Fassi crane F195A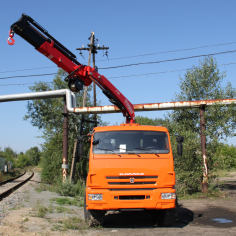 Today, these types of vehicles are very useful in large construction sites, as well as the movement of bulky materials in the loading and unloading of concrete and metal structures.
At the base of the mechanization of the modern economy there are automated systems that are widely used in almost all areas of production. For example in the constructions, large building works, in the refining of petroleum, road maintenance, in any type of logistic activities are operating special vehicles. Thanks to these special vehicles transportation's costs are minimized and productivity is improved, since in the particular case the driver of the vehicle is also the operator of the crane.
More details (only in Russian):
www.i-mash.ru