Mobile installation with Fassi loader crane for dammed lake cleaning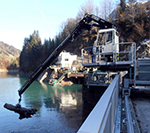 The REISCH Maschinenbau GmbH has realized a mobile collector for driftwood. This mobile cleaner crane is operating at the power station Lutz Oberstufe in Raggal, Vorarlberg (Austria) for Vorarlberger Illwerke AG company.
The chassis is able to go around curves and the special Fassi loader crane of 24 t/m is rotatable over 400°. This installation offers several benefits apart removing floating-refuse, driftwood and sediments.