Fassi articulating boom truck gives the Indy 500 a lift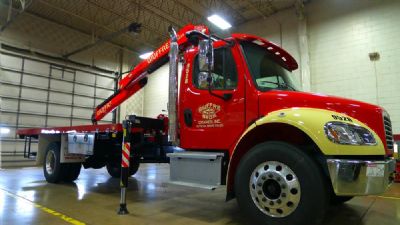 For the third year in a row, Milwaukee-based (Wisconsin - U.S.) Giuffre Brothers Cranes has designed and constructed the "Official Indy 500 Recovery Vehicle", a specialized, articulating boom truck to assure a fast, clean and safe response to incidents and accidents that occur during one of the world's most watched sporting events at Indianapolis circuit.
Giuffre Brothers Cranes, Inc. was founded in Milwaukee, Wisc., in 1963, by Dominic and Frank Giuffre, and is the country's largest supplier of boom trucks for the construction and roofing industry. The company has locations in Milwaukee, Chicago, Salt Lake City, Utah, Phoenix and Palm Beach, Fla.
More details:
www.constructionequipmentguide.com