Removal operation in Basel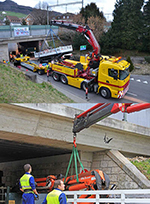 Sissach (Basel - Switzerland). A crane got stuck into a railway underpass in Sissach on February 28th. No one was injured, but there were substantial property damage. In addition, there were huge traffic problems in the region of Basel, police said.
The incident occurred around 3 p.m. o'clock in Zunzgerstrasse. The evidence found by the police have revealed that the crane was too wide on the trailer of the truck, so it collided with the underpass.
Once extracted the crane felt down. The rescue operation and recovery lasted about 4 hours.
More details:
www.verlagshaus-jaumann.de