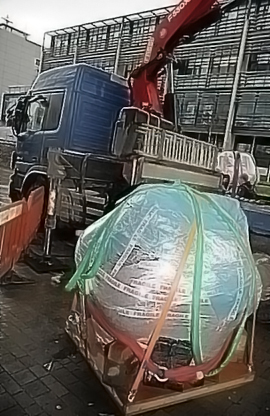 Five sculptures weighing up to five tonnes arrived by low-loader to take pride of place in a gallery in Plymouth (UK).
The giant artworks, by acclaimed stone sculptor Peter Randall-Page, turned heads as they were lifted into place with the help of a (Fassi) crane at Peninsula Arts Gallery in North Hill.
But there are more and bigger to come. Three pieces totalling almost 40 tonnes are still en route for the first large-scale exhibition in the South West for 25 years by the Dartmoor-based artist.
"This is very special for the city and shows Plymouth's cultural scene is growing," said Sarah Chapman, director of Peninsula Arts, a university organisation.
More details:
www.plymouthherald.co.uk