A Fassi crane F50A installed on GAZ Sadko model 33086 with long cab by NizhSpetsAvto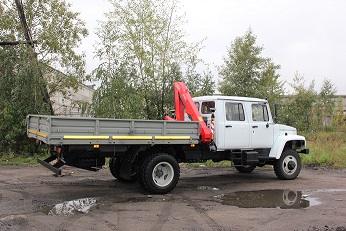 At Nizhny Novgorod (400 km east of Moscow ) the bodybuilder of commercial and industrial vehicles "NizhSpetsAvto" has set up on the chassis of a vehicle GAZ 33086 (long cab version) a
Fassi F50A crane
with lifting capacity of 5 t/m.
This special vehicle is the best solution for the distribution of building materials to construction sites. The configuration is also suitable in urban areas for road maintenance works, for instance when you need to make repairs at the gas lines and move the equipment involved in the various sites.
The installation made onthe vehicle GAZ 33086 with long cab and Fassi crane F50A is also ideal to work in rural areas, as the vehicle has all-drive wheels and is therefore able to move easily even in difficult ground conditions. The extended cab is able to accommodate maintenance teams of 4 persons and therefore reduce shipping costs of the technicians.
More details (only in Russian):
www.r52.ru