Unimog Multimodal with Fassi crane for the Palermo tramway (Italy)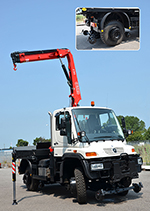 Eur.E.Ca. S.r.l. (acronym of European Engineering and Calculation) owned by Lorenzo Gambarin is a one-of-a-kind company in Italy, with just a handful of competitors in Europe as well. In fact, it specializes in the fitting out of road/railway multimodal vehicles which are needed for rescue and maintenance operations on railway lines. "
The Unimog U400 equipped with a Fassi F90 crane and a BPM body –
explains Gambarin
- is part of a work-order for a total of five vehicles for the Palermo Tramway Consortium. To be more precise, this vehicle is intended for carrying maintenance materials and for towing operations of broken-down trains. Eur.E.Ca. handled the assembly of body and crane and of the equipment so that it could travel on rail: traction is entrusted to rubber wheels (with narrower track), while the carriages keep it lined up on the tracks
".
The crane is illustrated by Oscar Marchi, the owner of Tecnogru Fassi S.r.l., a Fassi dealership for the provinces of Modena (where the headquarters are located), Mantua, Parma, Padua and Reggio Emilia, who works together with three authorized workshops located in Guastalla (RE), Parma and Mantua. "
The crane is a Fassi F90A e-active with lifting capacity of up to 8.55 tm, maximum hydraulic reach of up to 12.30 m, jib and overall dimensions of 0.70 x 2.20 m and a height of 1.97 m; the standard equipment consists of an FX500 control unit, a D850 digital hydraulic distributor and an RCH/RCS radio control unit. This is not the first time that Fassi Gru and Eur.E.Ca. work together on a project, as a few years ago another Unimog was built for the Bergamo Tramways using a Fassi F30 crane
".
The Unimog U400 set up for Palermo's Consortium is a model with a long wheelbase of 3600 mm, equipped with a four-cylinder turbo diesel engine with 4250 cubic capacity and 177 HP.