European companies create a new group that looks closely at Brazil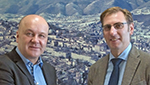 The Italian company Fassi Gru S.p.A. has become a shareholder of the Cranab company that it has bought the Bracke brand. This new Swedish group reaches a turnover of 40 million Euros. Leading manufacturer of forestry cranes in Sweden, Cranab, a company based close to Umeå, has just concluded a deal that is expected to affect the market in the coming years. Cranab also acquired control of the company Brake, manufacturer of equipment for forest exploitation. At the same time Fassi has become a major shareholder of Cranab.
In the picture Fredrik Jonsson CEO of Cranab to the left and Giovanni Fassi, CEO of Fassi Gru S.p.A., to the right, during the meeting Wednesday 22
th
at the headquarter of the italian company.
More details:
www.cenariomt.com.br