Fassi Crane Art 2014: the strength of creativity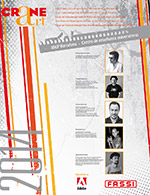 For the second consecutive year Fassi has collaborated with 5 young photographers of the IDEP school "Escuela Superior de Imagen y Diseño" of Barcelona.
Antonio Lorente Carreño, Francisco McKercher, John Bettinello, Klaudia Ramirez and Ignacio Barceló Neira have freely interpreted the articulated cranes manufactured by the Italian company.
This is a work that allows young talented people to express their creativity on an international level.