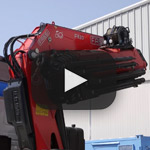 Albino (Italy) - 28th October.
A video dedicated to the English company Advanté and lasting 2'26" was uploaded on the Fassi YouTube channel on Wednesday, 26th October. It was created thanks to the collaboration of Fassi UK Ltd. The video briefly presents the activities of this Fassi client, owner of one of the leading companies in the United Kingdom for the supply of temporary office units and welfare accommodation for construction sites. Thanks to their fleet of special trucks fitted with Fassi cranes, they are able to diversify their activities, offering a range of ancillary services for the handling of the containers.
Advanté, Walker Crane, Fassi and Scania pioneer 360-degree lifting in the UK. The new F820RA model uses a military-style beam at the front of the chassis, behind the front bumper, and an extra pair of mounted stabilisers, making not four legs but six.