Important supply made by the Fassi distributor in Uruguay to the energy agency of the country (UTE)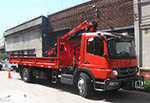 Montevideo (Uruguay) - August 2015.
12 Mercedes Benz trucks with Fassi cranes installed have been recently delivered by Manger, the Fassi distributor in Uruguay, to agency for the country's energy (UTE). In total they are 8 with
Fassi cranes F110B.2.23
and 4 with
Fassi cranes F50A.0.22
. The supply of equipment was completed with Kinshofer's drills and 2VE Ormet baskets to allow the work in height. The national agency of the power plants and electric distribution (UTE) is a state-owned Uruguayan company engaged in the generation, transmission, distribution and sale of electricity, provision of ancillary services and consulting. To meet the demand of one million and two hundred thousand customers in the 176.215 km2 of the national territory, UTE manages hydroelectric plants, wind and thermal.
In addition to those mentioned above, soon other vehicles will be set up and its fleet will reach 20 trucks with Fassi cranes.

Courtesy of Manger Ltda. (G. Feans)


More details:
www.manger.com.uy
and
http://portal.ute.com.uy