Two Fassi loader cranes, model F365A.2.26, for the construction company HOCHTIEF CZ a.s.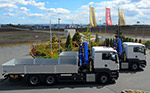 Olomouc (Czech Republic) - August 2015.
The Fassi distributor in Czech Republic, Everlift Spol. S.R.O. company, has made and delivered two blue painted
Fassi cranes F365A.2.26 e-dynamic
on vehicles MAN TGS 6x4 BL in the same color for the international building company HOCHTIEF CZ a.s. The construction company HOCHTIEF is leader in its field. Currently, it employs approximately 1100 employees who are involved on the constructions in the several segments of this market in the whole Czech Republic. These may be residential, public and office, industrial, environmental and water management constructions, including projects of transport.
Courtesy of Everlift Spol. S.R.O. (I.Fábryová).


More details:
www.hochtief.cz
and
www.everlift.cz