Two Fassi loader cranes for heavy-duty lifting in action at Tampere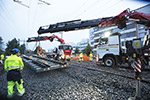 Tampere (Finland) - July 2015.
Two Fassi heavy-duty loader cranes, belonging of the Finnish company Kurko-Koponen Oy based in Furto and specializing in lifting equipments, have attended at the job shown in the photos to replace railway switch. This action was took place in Tampere (178 km at north of Helsinki) the last week of July of this year. The cranes models involved into the work were a
F990RA.2.28 xhe-dynamic
and a
F1950RAL.2.28 he-dynamic
.
Courtesy of Grutech Oy (J. Andersson)
.
More details:
www.kurkokoponen.fi