Fassi with Sicim to build a natural gas pipeline in Peru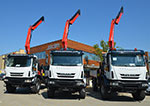 The three 4x4 Eurocargo's featured in the photograph are part of a fleet of 40 similar vehicles for the yard that Sicim is setting up in Peru from which to build a 500 km pipeline. However, not all of the vehicles will be equipped with a rear-mounted crane; they will be distributed across different work teams and equipped according to their different uses. This flatbed version with a
Fassi F110B rear-mounted crane
is the most versatile as it can be put to numerous uses: in addition to transporting materials, construction tools and raw materials, it can be also fitted with various types of equipment.
The vehicle engines are classified as Euro 3 since there are no emission restrictions in Peru and they must be easy to manage. Peruvian diesel is some of the worst in the world and the drivers are not used to vehicles as sophisticated as the latest European models. Therefore, the choice fell on Fassi cranes, thanks to their excellent reputation for reliability and robustness, as well as having an extensive professional service network in Peru that provides Sicim with fundamental reassurance. All of this without neglecting safety: all of the cranes are CE certified to meet all relevant latest European standards, since the customers are large corporations that always place the safety of their workers, and the equipment they use, as a top priority in the tender process.
Since 1962, Sicim has specialised in the construction of pipelines worldwide. Based in Busseto, in the province of Parma, it has become a huge operation with a global footprint. It has 5,000 direct and indirect employees and more than 2,000 vehicles at work on construction sites that are currently active in Mexico, Peru, Turkey, Angola, Congo, Cameroon, Iraq and, not least, Kazakhstan, a major oil & gas distribution hub where Sicim has been active for more than 20 years.