Fassi has created a new video on the GAS system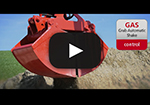 The Fassi GAS (Grab Automatic Shake) system is a new function that can be activated by digital remote control to automate the opening and closing of the grab. This regulates the flow of material deposited on the ground along the stretch of earthworks, typically on roads. Activating the GAS system, the release of material is kept constant even at high speeds. This therefore improves the speed and precision with which Fassi cranes work.
The parameters that manage the movement of opening/closing the grab can be customised according to the user's requirements. The system is effective even with multiple actions as it is not affected by other hydraulic movements or flow sharing. The GAS system is also designed to easily release any material remaining on the walls of the grab.
Use of this technology is particularly suited to road maintenance works.
Watch the video on the GAS system in action here:
http://youtu.be/towJuZSRp_Q