KRG Transport, their road haulage service can rely on using Fassi crane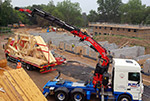 Salisbury, Wiltshire (South of England) - July 2015.
A
Fassi crane F660RA.2.26
with jib L414 at work in a construction site. This crane on DAF truck belongs to the UK company, KRG Transport Ltd. that offers a variety of road freight services. Their fleet of crane-assisted lorries lift and transport heavy objects, including cabins and containers. This professional and long established haulage company provides loading equipment and services across whole country. They are specialised in site to site transfers including collection, loading and delivery of your equipment. Their projects have included work for some of the major construction, rail and shipping companies in the UK.
Courtesy of Fassi UK Ltd
.
More details:
http://krg-transport.co.uk/