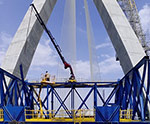 Cadiz (Spain) - July 2015.
The bridge of the "Pepa" (in Spanish Puente de La Pepa), the second bridge in Cadiz and new entrance to the city, crosses the gulf with the same name to connect to the Puerto Real in the Spain mainland. This is the longest bridge of Spain, its supporting pillars measure 180 meters in heigh. The project is nearing completion. Four
Fassi cranes model F1100RA.2.28 he-dynamic
were involved in the construction of the bridge..