A Fassi Knuckleboom Crane in front of the adv of last Batman videogame: Arkham Knight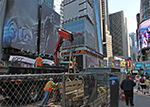 New York (US) - June 25th,
nearby Times Square along the Broadway between the W48th and the W47th. This work is part of the recostruction of the Times Square streetscape, a city project, which will be carried out over the next several years. Here works a Peterbilt truck with a Fassi knuckleboom crane model F335A.2.22 (with a lifting capacity of 31,7 t/m and a standard reach of 8,15 m) set up in the rear of the cabin. In the background the huge advertising panel of the last Batman videogame: Arkham Knight. The vehicle is owned by Tully Construction Co., Inc., (Tully), established in 1978, a company operated by the Tully family which is in the construction industry for over 85 years. Today the headquarter is placed at Flushing NY 11368, US. (
www.tullyconstruction.com
).
Photo courtesy of F. Locatelli.
To get regular updates about the Times Square Trasformation, visit:
www.TimesSquareNYC.org