The four pay-welders that Euro Pipeline Equipment has installed with the Fassi F65A Active cranes for the welding operations of the onshore pipelines are ready to enter into service in Algeria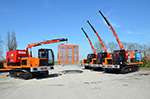 Imagine a desert and a long pipeline being built with, at each joint of the pipes, a pay-welder in action. To ensure welders operating conditions protected from bad weather, either sandstorms or just wind, a metal and Plexiglas cage is being used, which is in fact moved by a Fassi crane, in this case an F65A active crane in its basic version, with fixed positioning, therefore without outriggers. This is exactly the scenario that awaits the four pay-welders lined up in front of the headquarters of Euro Pipeline Equipment S.p.A., waiting to be embarked for Algeria.
There are four tracklaying pay-welders model EPE–TP15 (in this case with steel tracks but which can also be made of rubber) designed for manual and automatic pipe welding operations. The cart is made with high-strength steel box structures and the cab is equipped with an air-conditioning system (alternatively it can have a heating system depending on where it will be operating) and interior crane control console. In addition to the Fassi F65A crane, a Mosa generator and a compressor for a wide variety of uses are positioned on the floor. An area has also been provided for eight cylinders which will be filled with the gas necessary for welding (oxygen, acetylene and various mixes) which, similarly to the welding group, will be installed directly in Algeria. The mission of the Fassi F65A active crane is to transport and position the workers' protection cage. When the welding is completed, the crane will raise it and the pay-welder will move forward to the next joint of two pipes; just think that in the installation of an onshore pipeline, dozens of these machines are at work, one for each joint.
The pay-welders are just some of the machines produced by Euro Pipeline Equipment, a company that is a subsidiary of the Franchini family holding with Riccardo Franchini as its CEO. "Our production - he explains - is spread over the entire supply chain for the construction of pipelines, i.e. gas pipelines, onshore pipelines and aqueducts. In the plant, which covers a total area of 50 thousand square metres, of which 20 thousand square metres is indoors, ten production departments operate equipped with machines to perform in-house all the mechanical processing and assembly with machines for laser cutting, bending, calendering and welding in addition to the sanding and painting departments. The technical partners are essential and Fassi Gru is undoubtedly one of those most appreciated by us and by our customers due to the quality of its products and the comprehensive and professional global support network; we have seen evidence of this on several occasions: from this supply for Algeria to the next one for Peru".