A Fassi Crane F175A.0.24 to position a sculpture of Jorge Marín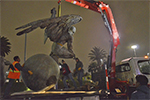 Mexico city (Mexico) –
A Fassi crane model F175A.0.24 was used to position the monumental sculpture "Perseidi" of Jorge Marin in the square outside the Terminal 2 of the international airport in Mexico city. It's the biggest monumental artwork of the sculptor and it took him 6 months to produce it. In Marin's opinion, the aim of this present is to reach public places with artworks.
"
Airports represent the first contact of the travelers with their destination. They are a meeting point for thousands of people travelling all over the world for different reasons…. Perseidi is thus a key element, to wish a good journey and to welcome the visitors in our country
", he said.
He also added that this is not only a gift to the airport, "
it's also a present for all the people travelling, as artworks change their way to see the places where they are put, making people go beyond time and space and develop another idea of that same place.
"
This is not the first time that this sculptor, who has exhibited his artworks in more than 200 personal and collective exhibitions, gives his artworks as presents. Last year he gave his sculpture Alas de México to Mexico City and this work is now in the Paseo de la Reforma.
More information:
www.jorgemarin.com.mx
and
www.eurogru.com.mx