Meeting with the International specialized press for the 50 years of Fassi cranes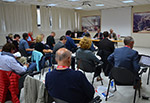 Albino (Bergamo) - June 23rd.
At the headquarter of Fassi Gru S.p.A. located in Albino (Val Seriana - Italy) there has been a meeting with the international specialized press to celebrate the first 50 years of the world's leading manufacturer of articulated cranes. Press Conference by Giovanni Fassi. Also present were R. Ceresoli and M. Bertazzi.
"Fifty years of history are a great satisfaction, but also a great responsibility," so Giovanni Fassi. His father Franco Fassi adds "we are always Fassi, with our style, our identity, our product and our way of being ". Whole world of Fassi is in these two statements, and in these two people who have written a remarkable story of entrepreneurship and innovation over half a century.