The new model of Fassi cranes F820RA in activity at London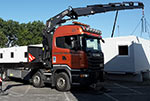 East London (England) - June 2015.
The new
crane Fassi F820RA xhe-dynamic
the six hydraulic extensions version, has recently been in the east London to handle modules of container with housing purposes. The customer working with this Fassi truck mounted crane is the transport company Webster Miller Ltd, with operational headquarters at Thurrock in Essex. This transport company a reputable haulage firm with a varied fleet of Scania Trucks and a proven track record stretching back over 40 years.
More details:
www.webstermiller.co.uk
and
www.fassi.co.uk