The 2015 edition of the "Journée Italienne" organized by Fassi France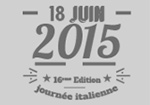 Saint Ouen L'Aumone (France) - June 2015.
As has become tradition, the annual "Italian Festival" will be held on June 18 at the headquarters of the French importer of Fassi cranes. For 16 years, this event takes place on the third Thursday into the month of June. It is a day dedicated to all its employees, its suppliers and its customers. This year will be an opportunity for the whole organization of the French company to celebrate the new corporate profile of "Fassi France", recently inaugurated the Intermat exhibition.