The new timber crane model TZ12 by Cranab for trucks at Skogsnolia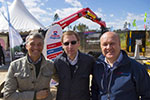 Umeå (Sweden) - June 2015.
The exhibition Skogsnolia is ended and it has confirmed to be the most important opportunity of meeting into the Swedish forestry industry. Protagonist on the Cranab booth the new timber cranes model TZ12 of 12 t/m, presented by the CEO of the Swedish group Mr. Fredrik Jonsson together with Mr. Giovanni Fassi, CEO of the Italian industrial group and the R&D manager of Fassi Mr. Rossano Ceresoli. The commercial launch of this new crane is (available in two hydraulic extensions of 9.3 and 10.5 m) is scheduled in 2016.