Fassi Schweiz AG has attended at the transport sector exhibition of Altstätten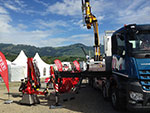 Altstätten (Switzerland) - June 2015.
The event "LKW-Treff Ostschweiz 2015" was held during the weekend of June 12-14 in Altstätten (127 kilometers east of Zurich in the canton of St. Gallen). This local event was been an important meeting for the companies working in the field of trucks and of commercial vehicles together to their technical suppliers in the German-speaking area of Switzerland. The Helvetic distributor of the Italian brand, the company Fassi Schweiz AG has participated exposing a Mercedes truck with a
Fassi crane model F950RA
installed back rear.
More details:
http://www.fassi.ch/
and
http://lkw-treff.ch/