One Fassi crane to locate a monolith carved with an ideogram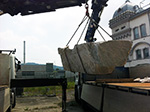 Alzano Lombardo (Italy) – 5th June 2015
. An 8 t marble monolith carved with an ideogram with the verses of the poet Mario Luzi "Vola alta Parola" ("fly high word") has been recently put in an industrial archeological site of an ex cement factory in Alzano Lombardo, Bergamo area.
This important and delicate operation was carried out with a Fassi crane.
A magical atmosphere characterized the official inauguration, with the poet Yang Lian reading aloud various verses and a light show organized by the artist Marco Nereo Rotelli. The monolith will be exposed until the end of Expo 2015.
Courtesy of L'Eco di Bergamo.


More info (italian only):
www.bergamonews.it