Fassi will appear on the sideline ledwalls in the football's final of Italian Tim Cup in the Olimpic stadium of Rome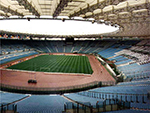 Rome (Italy) - May 20th.
The 2015 edition of the "TIM Cup" final among the teams Juventus and Lazio is scheduled for this evening, May 20th in the Olimpic stadium at Rome and will be broadcast live on Italian National Channel (Rai 1). The brand Fassi will appear on the electronic ledwalls along the sideline of the football field for a total of three minutes during the entire match.