Fascan and V&H Inc. Auction Pink Boom Truck for Cancer Research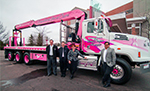 Baltimore-based Fascan International, the U.S. distributor of Fassi articulating cranes, and Marshfield, WI-based V&H Inc.-Heavy Trucks, were auctioning a one-of-a-kind, "Reaching for a Cure" pink boom truck on Wednesday, April 29 at the 2015 Intex Expo in Long Beach, CA. All of the proceeds from the sale of this truck are been to benefit the Marshfield Clinic Research Foundation of Marshfield, WI, and that organization's efforts toward finding a cure for breast cancer.
The boom truck, a Western Star 4700SB with a Fassi 360SE.24 wallboard crane, was exclusively designed by V&H Trucks and has an estimated value of more than $312,000. "
We wanted to use our expertise in fabricating this kind of vehicle to support the Marshfield Clinic Research Fund and the important work of diagnosing and treating cancer,
" said Tim Wolf, General Sales Manager at V&H Inc-Heavy Trucks. "
Designing, building and selling this truck will raise a lot of awareness in a very different marketplace.
"
More details:
www.forconstructionpros.com
and
www.fascan.com