A Fassi F1500RA crane works in the center of Bergamo (Italy)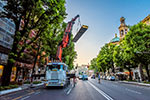 Bergamo - 28th April 2015.
Last week a Fassi crane (with a lifting capacity of 110 t/m) has been used in a maintenance work of a roof of a six floors building, located in Viale Papa Giovanni XXIII in the heart of the city center. In the background of the photo are visible Porta Nuova, which is the center of the modern city, and also the profile of upper part of Bergamo: the oldest city.