Victory of the Fassi Edelweiss Albino at the 9th match of its poule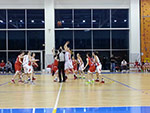 Alzano (Bergamo - Italy) - April 16th, 2015.
The female athletes of the basketball team of Albino have won the ninth match of Group G of the relegation poule of the national A2 female championship of basketball. The Fassi Edelweiss Albino team won the home's match with the score of 79-72 against the Basket Femminile Biassono team. This is the sixth win in nine matches played of its poule. Best scorer of the game the player Vorlova Tereza with 17 points. Next round Saturday, April 25 at 16:00 at the sports hall of Alzano Lombardo (Bergamo - Italy).
More details:
www.edelweissfassialbino.it
and
www.facebook.com/EdelweissFassiAlbino