Fassi at the MAN event "Trucknology Days 2015" in Muenchen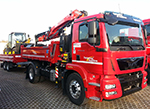 March 19th to 21st - Muenchen (Germany).
Fassi Ladekrane GmbH, the German branch of the Italian brand, has attended at the "MAN Trucknology Days" with a F125A.2.24 crane on MAN vehicle TGM 18.250 4X2 BL and with a Fassi 18 t/m truck crane installed on MAN TGS 28.480 6X4-4 BL. In the 3-day event more than 8,000 people visited the MAN Truck Forum, the manufacturing plant and tested directly the large fleet of vehicles available for test drives. Over 240 vehicles on display with solutions tailored to each type of use, transport easier commitments toughest.
More details:
www.fassigroup.de