The Fassi Edelweiss Albino wins at the 8th match of its poule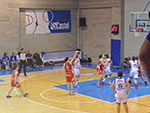 Carugate (Milan - Italy) - April 12, 2015.
Sunday, the female athletes of the basketball team of Albino have won the eighth match of Group G of the relegation poule of the national A2 female championship of basketball. The Fassi Edelweiss Albino team won the difficult external match with the score of 44-63 against the Castel Carugate team. Best scorer of the game the player Lussana Chiara with 14 points. Next round Thursday, April 16th at 20:30 at the sports hall of Alzano Lombardo (Bergamo - Italy).
More details:
www.edelweissfassialbino.it
and
www.facebook.com/EdelweissFassiAlbino