Move a 45 t/m National Crane with Encore's 50 t/m Fassi knuckleboom crane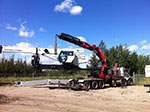 Encore Trucking & Transport Ltd. is a crane, picker truck, and transport company servicing Western Canada for over 30 years. Their certified boom truck operators bring a wide expanse of lifting, hauling and rigging experience to customers searching specialization in heavy and challenging hoist work.
Courtesy of Encore Trucking
.
Check out the pictures of a Encore operator moving a 45 T National Crane with Encore's 50 T Fassi knuckle boom here:
http://encoretrucking.ca