Fassi Gru S.p.A. sponsor of the 16th edition of the meeting organized by PHB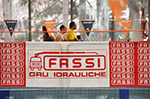 Bergamo (Italy) - March 23th, 2015.
129 athletes participating, representing 17 sport clubs from all over Lombardy and even outside. 71 disabled physical and visual athletes registered FINP (Italian Swimming Federation Paralympic) and 48 non-disabled boys Under 21 registered FIN (Italian Swimming Federation).
Fassi Gru S.p.A. was been among the sponsors of the Meeting organized by PHB - POLISPORTIVA BERGAMASCA, a non-profit company based in Bergamo - which took place on Sunday, March 23rd at the Sports Centre of the Italcementi at Bergamo.
More details:
www.phb.it