Fassi brand will appear on the sideline LED walls during the football exhibition match of the national football teams Italy vs England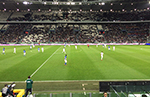 Turin (Italy) - March 31st, 2015.
For the first time Fassi Gru S.p.A. will sponsor a match played by the Italian national football team. The brand Fassi will appear on the lateral electronic LED walls during the match scheduled for tonight at 20:45 in Turin against England national team.
Who is the Fassi group:
www.youtube.com