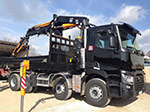 Troyes, the Champagne-Ardenne region (France) - March 2015. Miltra and the truck dealer Chaumont PL SAS based at Troyes (150 km southeast of the French capital) have recently prepared and delivered to the Gallissot company, specialized in the construction of roofs and their maintenance, a Fassi crane F485A.2.27 xe-dynamic with jib L154.
This company with 9 employees and family owned has already since 25 years another Fassi cranes of which appreciates its reliability and quality. Due to this reasons Mr. Sebastien Dechanet, buyer of the parent company has decided to bet on this new investment.

F485A.2.27 xe-dynamic
Lifting capacity up to 47.2 tm, maximum hydraulic outreach of up to 28.65 m with jib for crane on container with overall dimensions of 1.20 m length, 2.50 m width and 2.40 m height.
The equipment includes the FX500 hydraulic control unit, the D850 digital hydraulic distributor, the RCH/RCS radio control unit and dynamic ADC and flow sharing control.
Other features include: Dynamic version (.2), XP device, ProLink system, dual rod and 430° rack and pinion rotation.