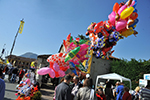 Sangano (Turin/Italy) - March 2015.
The branch of Turin of Fassi Gru S.p.A. will participate in the local traditional fair with which Sangano welcomes spring on Saturday 28
th
and on Sunday 29
th
March. As the tradition says, the skill of the population of this village at 25 km west of Turin since 1750 is the meat storage of beef and pork. The day of the fair will be fun filled activities, entertainment for all ages, cultural activities and tasting of local products.
More info here:
www.fassitorino.it