The Fassi Edelweiss Albino wins at the 7th match of its poule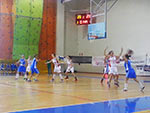 Alzano Lombardo (Bergamo - Italy) - March 22, 2015.
Sunday, the female athletes of the basketball team of Albino have won at the seventh match of Group G Of the relegation poule of the national A2 female championship of basketball. The Fassi Edelweiss Albino team won the home match with the score of 63-62 against the team "Trust Risk Group Stabia". This is the fourth win in seven matches played of its poule. Best scorer girl of the game Fumagalli Laura with 20 points. Next turn, Albino's team rests. It resumes after Easter.