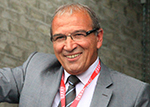 In July 2013, CTELM SAS, holding of the group Miltra, purchased Marrel SAS, a European leading company for the production of the hydraulic boom Ampliroll®. Thanks to this success, the group will reorganize itself in 3 companies in April 2015: Marrel, Fassi France and Miltra. Fassi France, 100% controlled by CTELM, becomes the exclusive importer of Fassi cranes and represents the Italian manufacturer in France. Miltra Paris Nord and Miltra Provence will become distributors of the following brands: Fassi, Maxilift, Marrel, Jekko, PENZ and Forez-Bennes.
For Mr. Roger Boutonnet, President of the group:
"This reorganization is the natural evolution of the choices made in the last 12 years with my collaborators, that means the construction of a leading group for the equipments of the industrial vehicles. The communication related to Fassi brand in France and all the activities promoted with the brand Miltra will allow to improve the quality of the service offered to the customers and to reinforce the reputation of the products represented. Fassi France aims at playing an important role in the market of the articulated cranes."