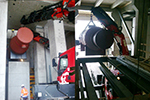 Helsinki area (Finland)
- Two heavy-duty Fassi truck cranes have teamed up to install a Heat exchanger. In this case, space was so limited that the operatio was given to two high-powered trucks cranes the whose dimensions (especially their lower height than usual) make them the perfect equipment for these kind of situations. The work is been made by vehicles of the Finnish company Teollisuusmuutot Oy, specialized in haulage services.
Courtesy of Teollisuusmuutot Oy.
More details:
www.teollisuusmuutot.fi